Description
Be inspired day and night with the mixer that makes the mundane feel exciting. It's powerful, sturdy and durable, with a 5-year guarantee.
Love monochrome interiors? This sand-toned mixer offers a softer alternative to white. It brings sun-soaked brightness to your kitchen.
Our black-studded bowl is in striking contrast to the brightness of the mixer. Its structural, studded design reflects the shifting light though the day.
We've added finishing touches like the unique trimband with contrasting finishes, and hub cover which can be removed to plug in our wide range of optional attachments.
Artisan Mixer: what's in the box?
You'll get everything you need to mix, knead and whisk your way to delicious sweet and savoury creations.
Let your imagination go wild.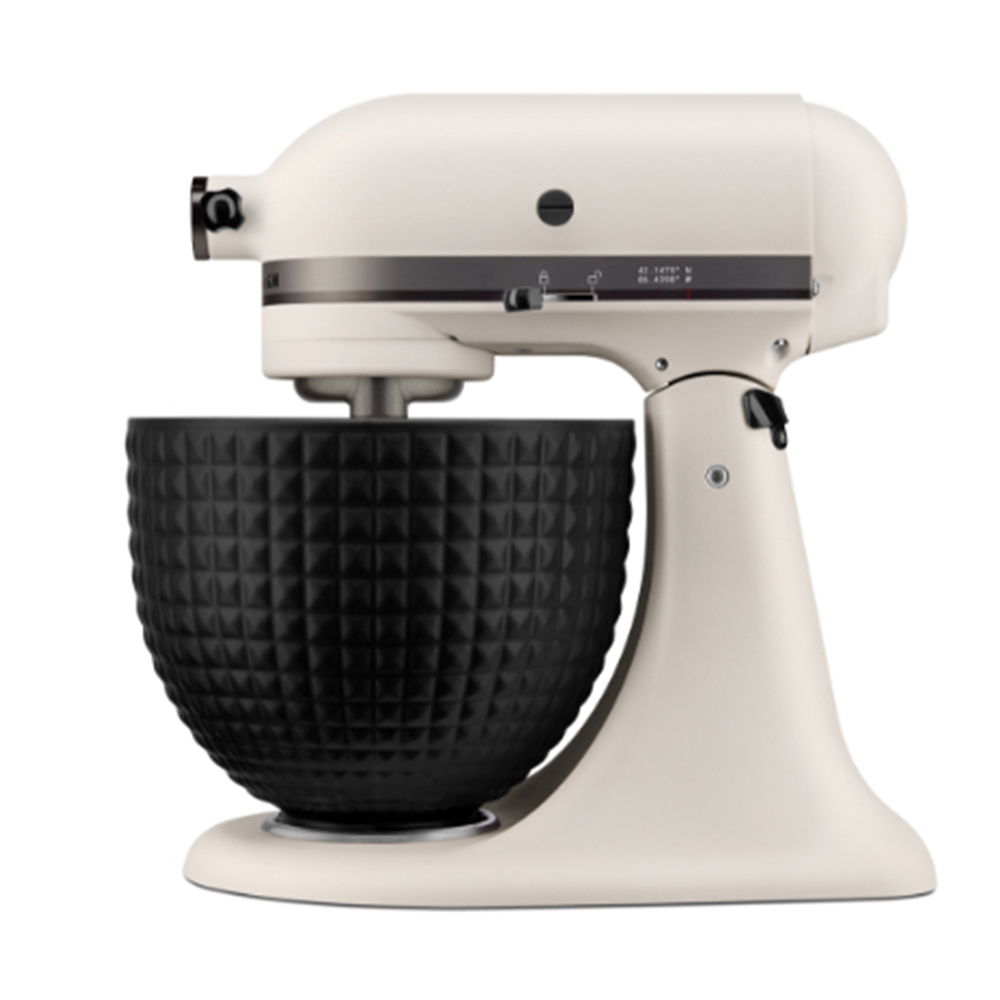 4.7 L black 3D studded ceramic bowl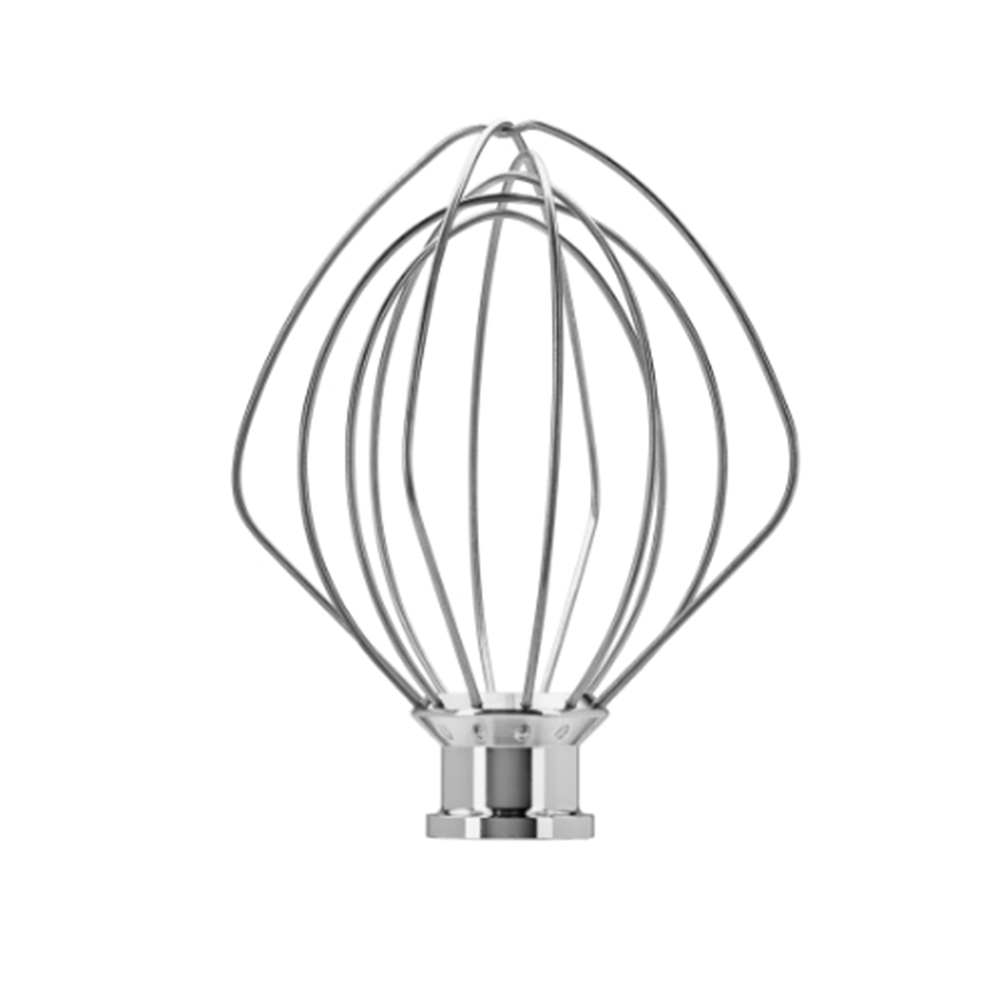 Wire Whisk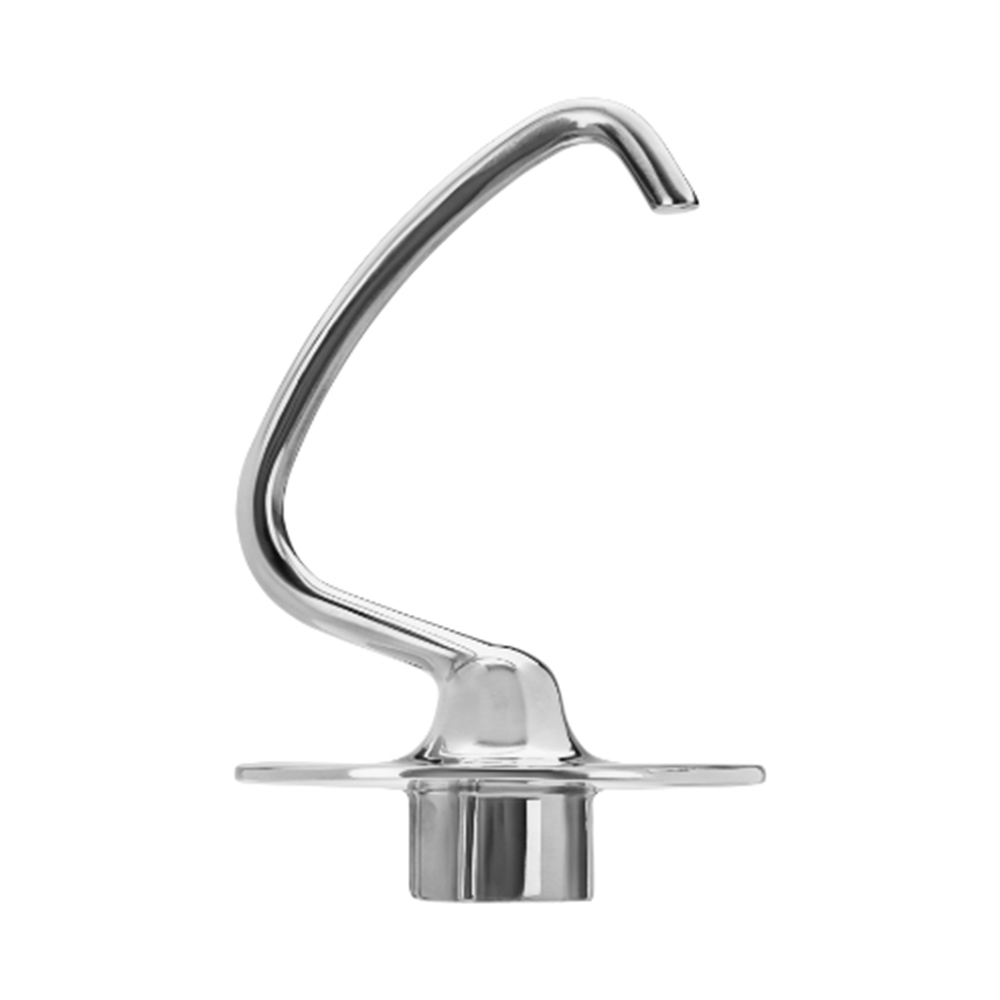 Dough Hook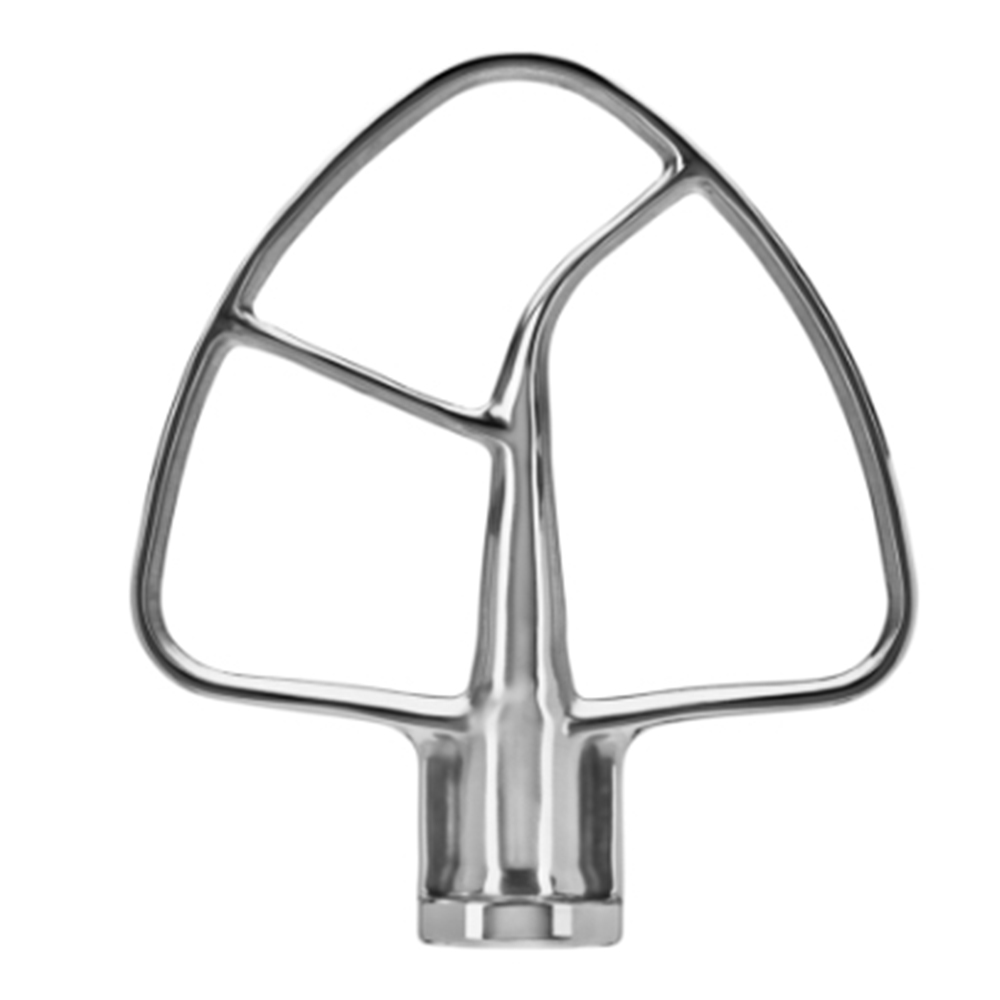 Flat Beater
Mixer advantages
Whips, beats, kneads and more
Simple to use
Quiet, powerful, energy-efficient motor
Planetary action for fast, thorough mixing
Ten speed settings for ultimate control
Sturdy, stable and durable
Huge range of optional accessories
Colour to match your style
Colour is a huge part of our story. This model combines a sand-toned mixer with a black 3-D studded bowl which catches the light in your kitchen.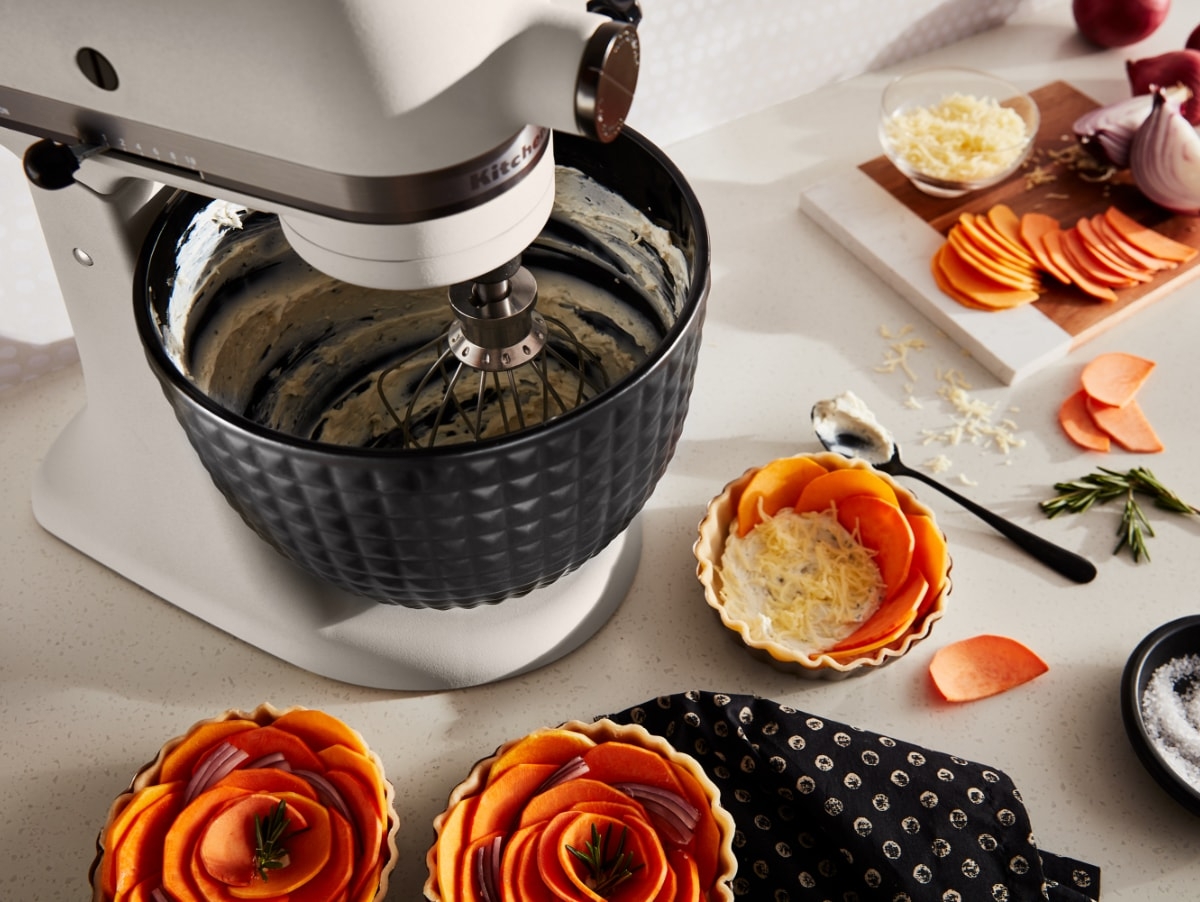 For whenever inspiration strikes
Designed to reflect those moments spent in the kitchen – morning or night – when the creative urge takes over. For midnight makers, or morning bakers, the dark and light of this mixer makes a beautiful combination.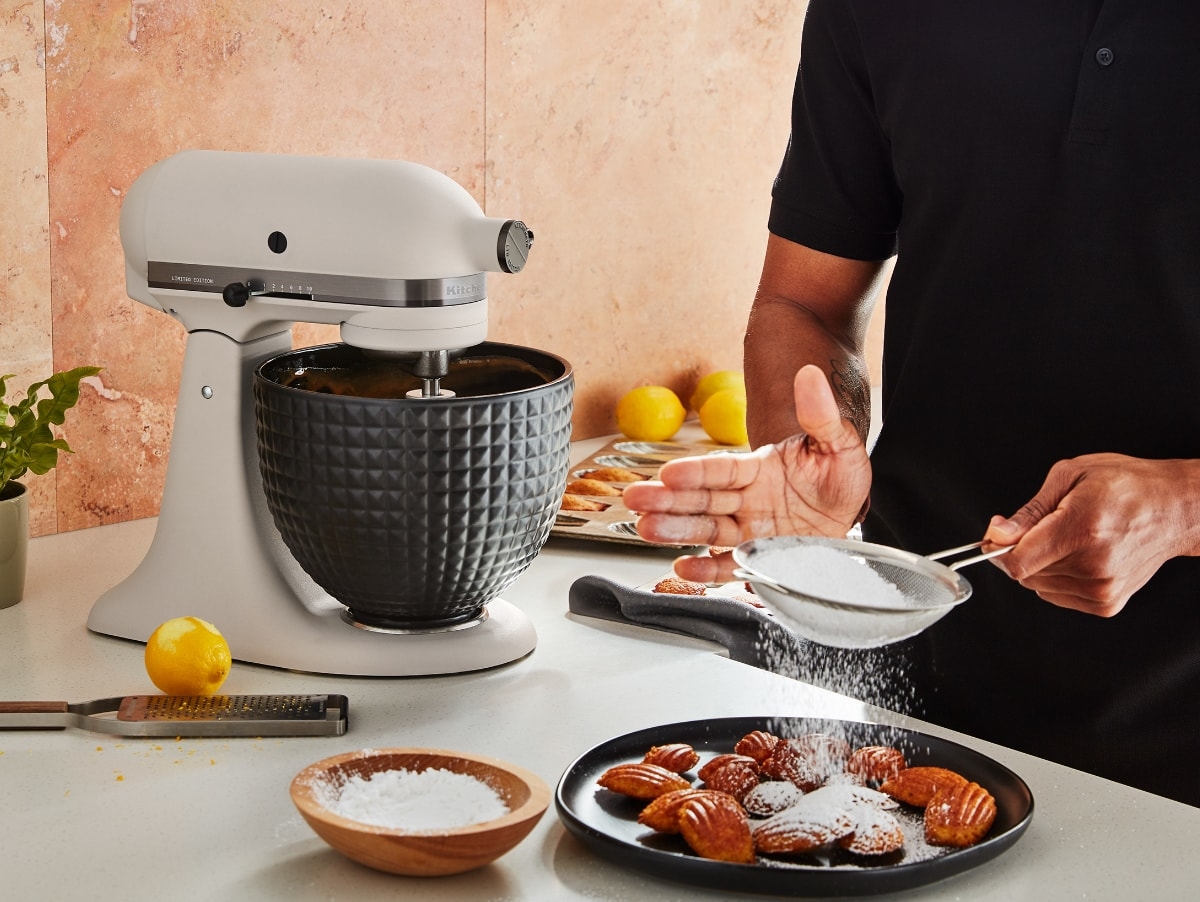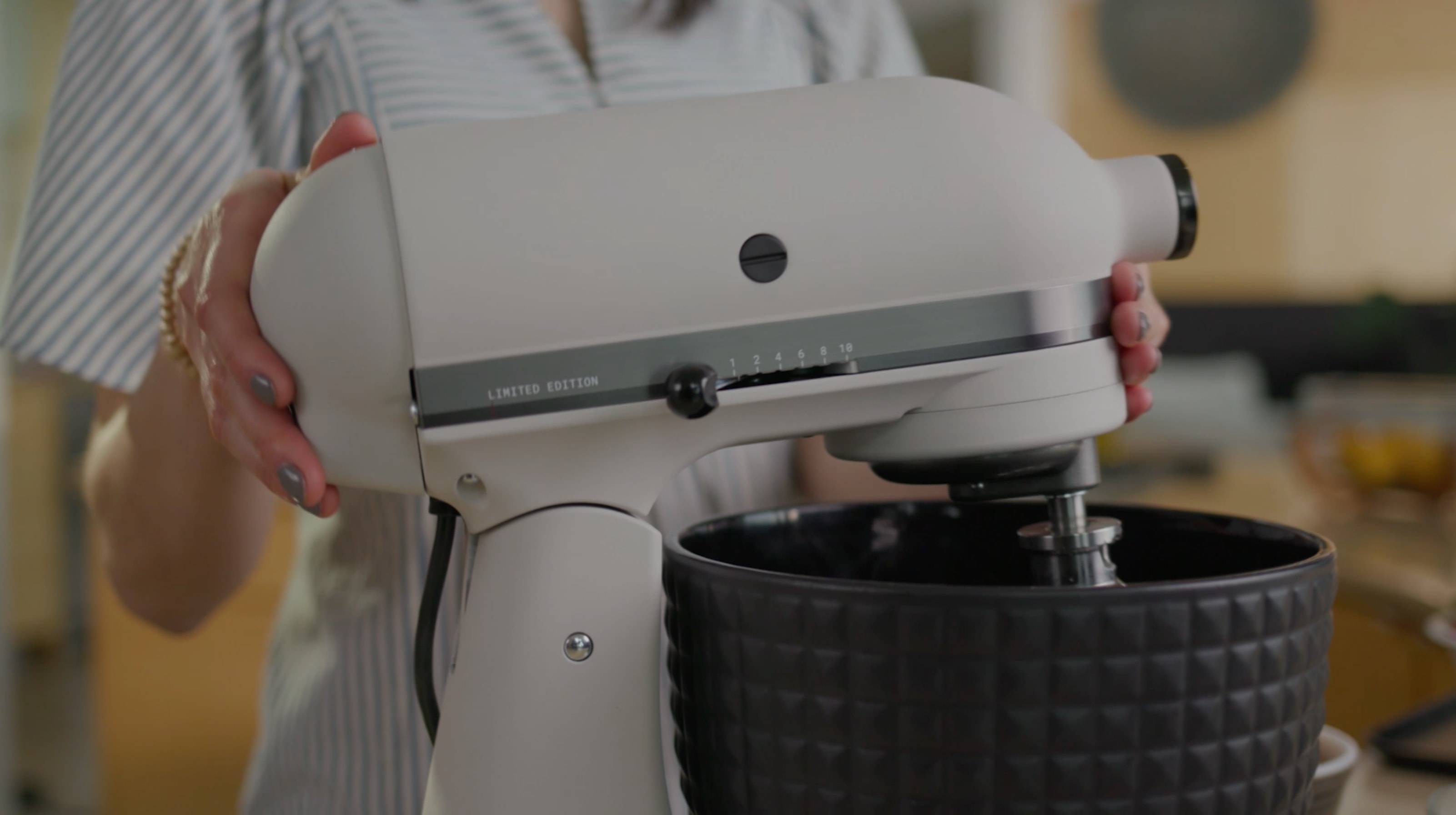 Make each moment stand out
Lift the everyday by perfecting your favourites and trying out adventurous new recipes, dishes and techniques.
Mixer that's ready for anything
Discover possibilities with this iconic mixer, which helps make everything from cookies to carbonara. Once you get to know its accessories, features and options, you can set your imagination free.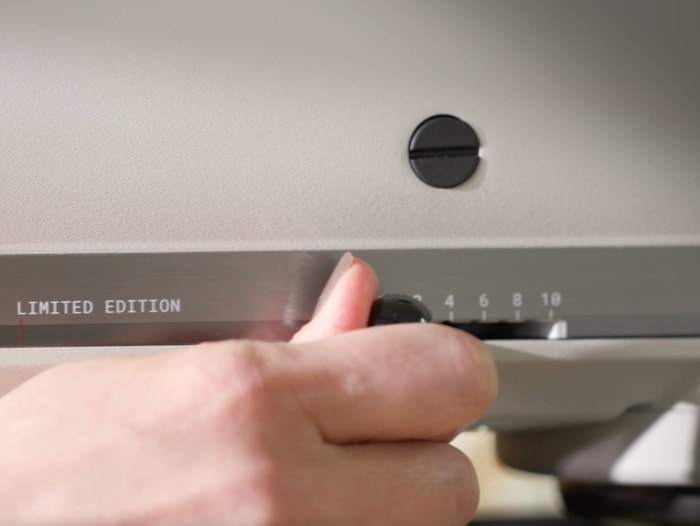 Ready for anything
Thinking about shredded duck or sourdough bread? Great! The mixer can do so much. With the included beater accessories, you can knead, mix, whip, mash or even shred.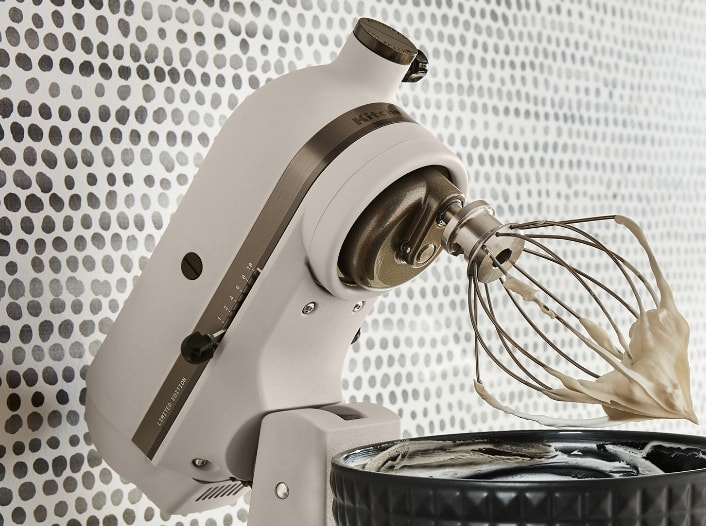 Stainless steel accessories
This gorgeous mixer comes with a stainless steel whisk, dough hook and flat beater. You can clean all these robust accessories in the dishwasher. The body of the mixer has a premium finish with food-safe enamel coating. Just wipe clean.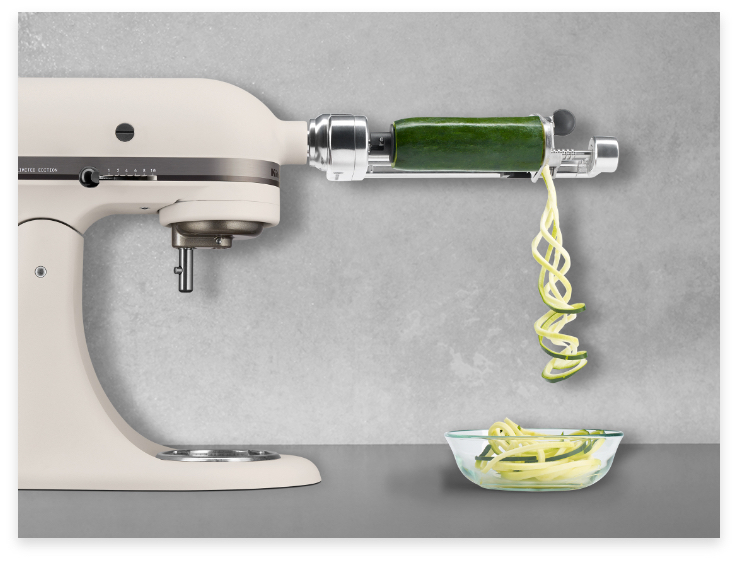 Experiment with optional attachments
From a spiralizer to pasta cutters, grain mill, ice cream maker or sausage stuffer, you're ready to expand the possibilities. The exciting attachments (sold separately) help you to master new techniques quickly.
Express yourself with colour
We understand that a mixer is also a style statement. We bring you lots of vibrant colour options so that you can suit your personality and match your interiors. Why not stand out with something unique?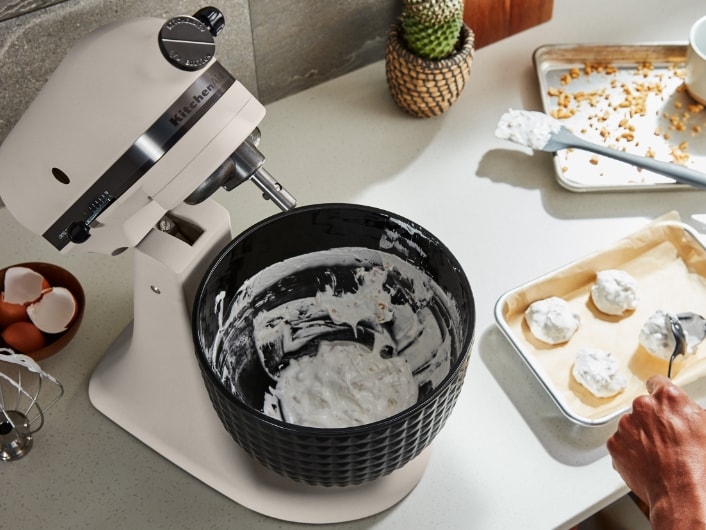 Performance mixed with efficiency
The KitchenAid mixer has a motor which is highly efficient at converting wattage into power in the bowl or attachments. Excellent performance and energy efficiency? Now that's the perfect mix.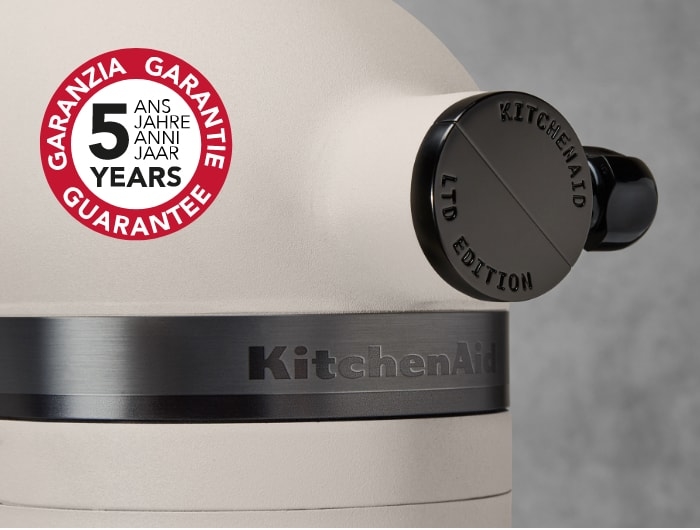 Strong enough to last
Built to be enjoyed by generations, the KitchenAid mixer has a solid zinc metal construction. It feels reassuringly sturdy and stable enough for heavy mixtures. Enjoy the peace of mind of our 5-year guarantee.
A mixer for whenever inspiration strikes
Let the mixer do all the hard work, while you explore fresh ideas and creative touches.
Fast mixing and precise control
The KitchenAid mixer was the original home mixer to feature unique 'planetary action'. What does this mean? It allows the beater to spiral to at least 59 touchpoints around the bowl for fast and thorough mixing. Everything is incorporated — nothing is missed.
Move the speed control lever, depending on what you're making. Select speed 1 for a gentle stir, 2 for kneading dough, up to 6 for beating and 10 for fast whipping.
Popular tilt-head mixer
Great for keeping on the worktop, the tilt-head model is your friend in the kitchen. It's quick and easy to tilt the head back to access the bowl. The 4.7L ceramic bowl features a pyramidal studded design and crazing, resists chipping, cracking, crazing and staining.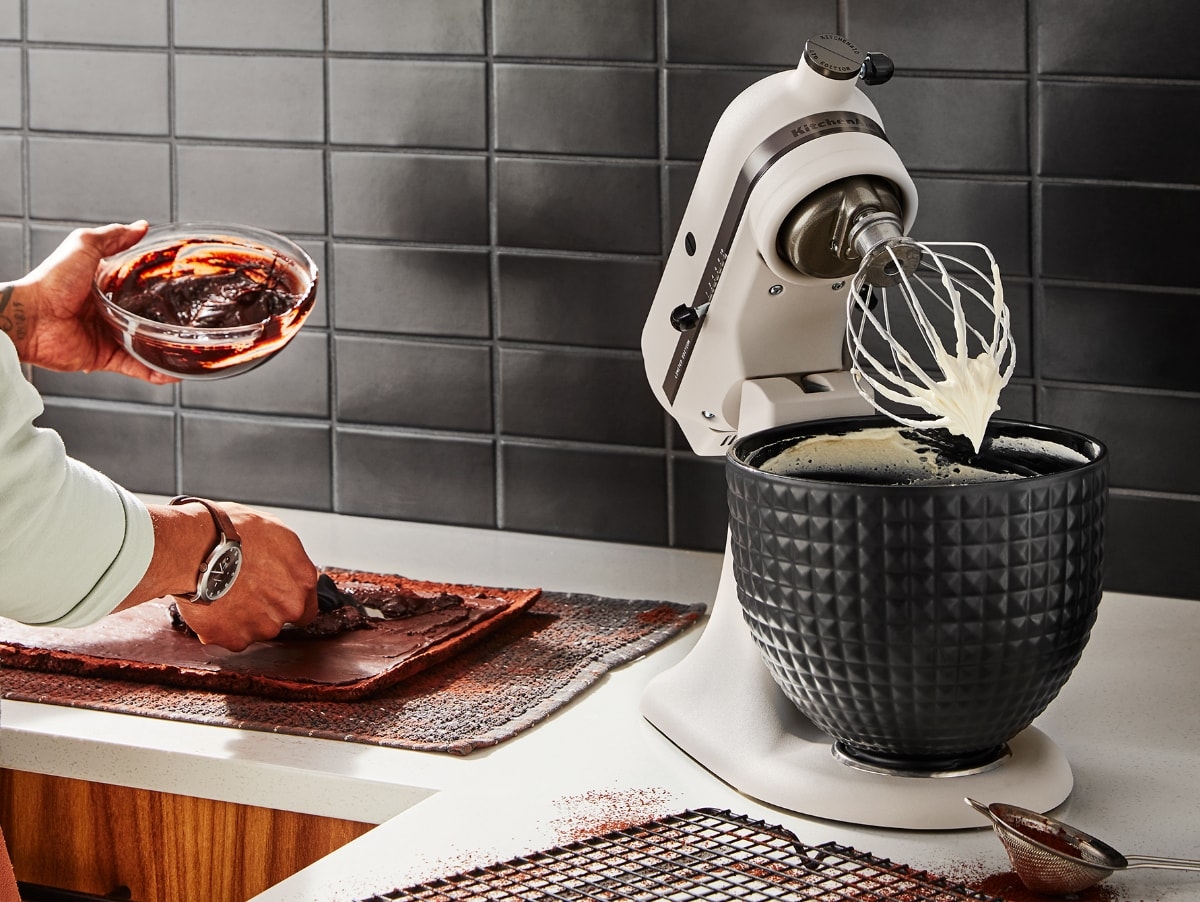 Beauty that stands the test of time
Our KitchenAid mixers are built for passionate makers to enjoy every challenge – no matter how big or small. They're made from the toughest materials and can take any recipe you might throw at (or in) them.
Still designed and assembled in the US, our mixers combine over 100 years of engineering expertise and a die-cast metal construction. They're solid and heavy, with our classic smooth, rounded look.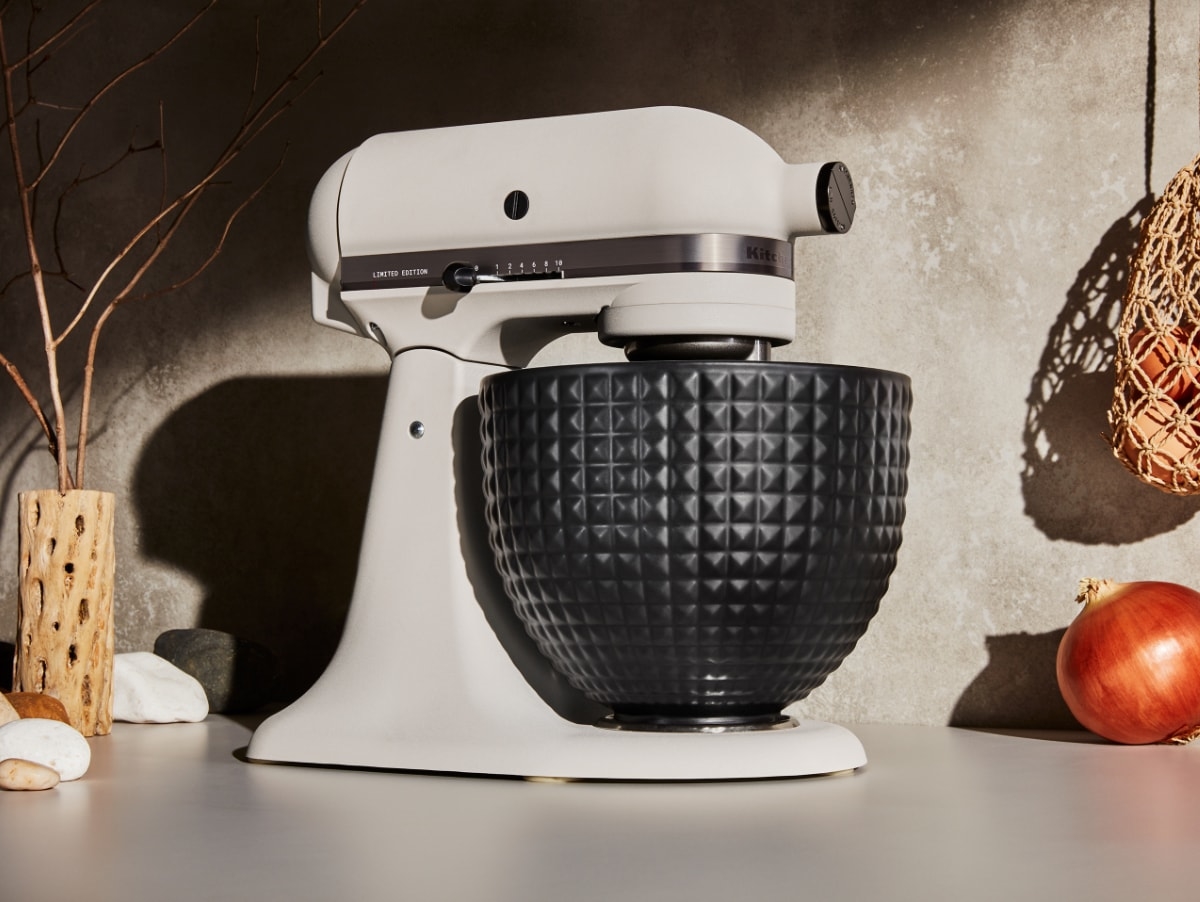 Mixer as strong as steel
Combining strength and beauty, the mixer accessories (beaters) of this Mixer tilt-head 4.7L are made of stainless steel. Hygienic and easy to clean, the material is ideal for a busy kitchen.
It's knock and scratch resistant so you can work it hard and still rely on it to look beautiful for many years to come. The durable ceramic bowl is microwave-, freezer-, dishwasher- and oven-safe (up to 246°C).