Description
DUAL Inverter Heat Pump™ Dryer For Consistent Performance, Sustainable Care
Live to a new standard of energy saving, convenience, and healthy drying. LG DUAL Inverter Heat Pump™ Dryer is the world first dryer with TUV Rheinland Green Product certification that recognizes LG's efforts to minimize environmental impacts.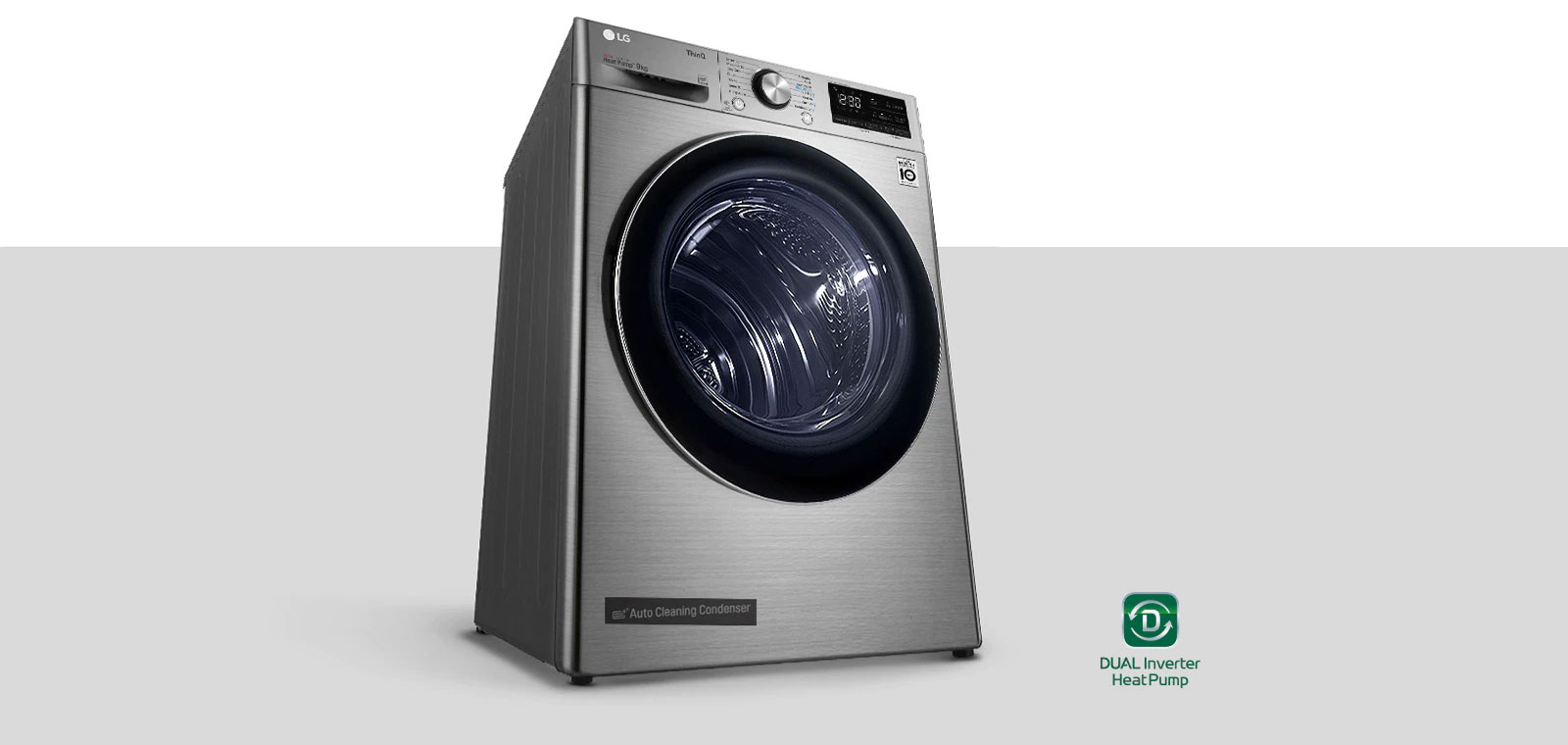 Energy Saving & Durability
The LG DUAL Inverter Heat Pump™ dryer uses two cylinders while other heat pump dryers use one cylinder.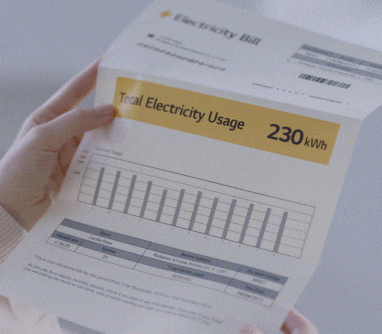 A Dry that Gives You Total Confidence
Save with the A+++ energy-efficient DUAL Inverter Heat Pump™ dryer, backed by a 10-year warranty.

At a range of energy efficiency classes from A+++ to D scale. According to the IEC standard, Cotton cycle with Energy Mode.

Kill 99.9% Bacteria with LG Tumble Dryer
Be worry-free knowing that Allergy Care reduces 99.9% of bacteria and live dust mites that can cause allergies.

Dual Filter means Twice the Clean
Minimize lint and dust with the Dual Filter to the point where the hair couldn't pass through.

An Optimal Dry on the First Try
Have well dried clothes the first time with Sensor Dry, which humidity sensor automatically optimizes drying time.

The results may vary depending on your actual environmental condition.
Condenser with Convenient Cleaning
Enjoy hassle-free maintenance of the Auto Cleaning Condenser-it self-cleans so you don't have to.
The cleanliness of the condenser may differ depending on the operating environment.
The frequency of running 'auto cleaning condenser' may vary depending on the size and the initial moisture amount of the laundry.
Quick Dry when You are Busy
Have the option of saving time with a faster dry or saving energy with Eco Hybrid™ technology.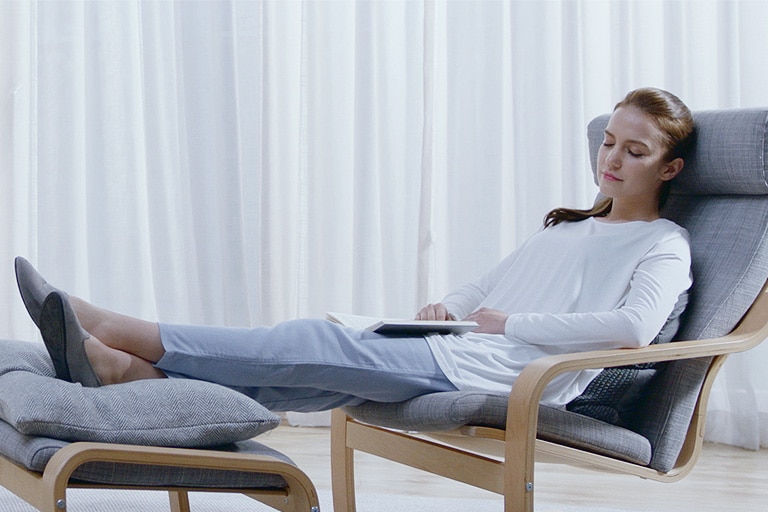 Energy Mode : Up to 15% Energy Saving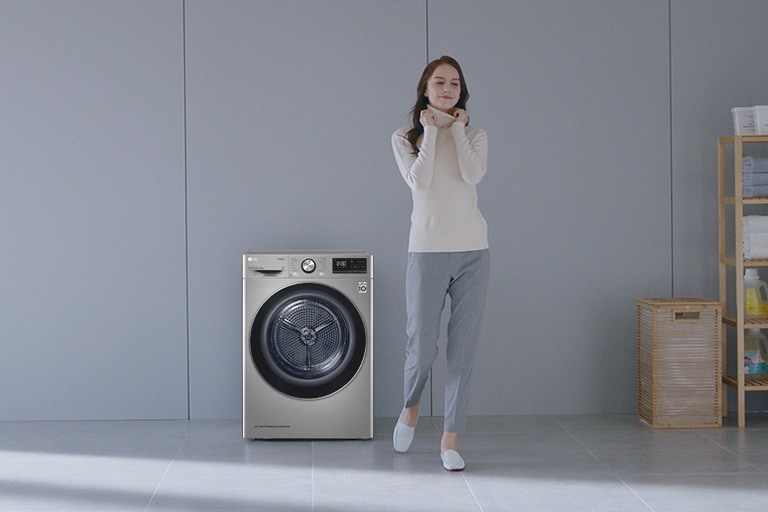 Time Mode : Up to 18% Time Saving
Tested by Intertek on April 2018, 9kg of IEC standard load in cotton cycle, comparison between Time and Energy Mode. (RC90U2AV3W)
Clothes Come Out Looking Like the Day You Bought Them
Keep your favorite clothes from shrinking or getting damaged with lower temperature drying.
LG ThinQ™
Smart Control, Smart Life
Use LG ThinQ™app on your smartphone to start a dry cycle or get notifications when your laundry is done from anywhere.

It may not work properly depending on the usage environment.
LG SmartThinQ™ is now renamed as LG ThinQ™.
Be Sleek, Easy and Customizable to Fit Your Needs
Tempered Glass
Reversible Door
Washer and Dryer
Stainless Steel Drum
With TWINWash mini
Save Energy and cost with Low Ampere Cycle LG Dryer from LG Washing Machine
DIMENSIONS
SUMMARY
CAPACITY:

9 kg

DIMENSIONS (W X H X D, MM):

600 x 850 x 660

MAIN TECHNOLOGY:

Dual Inverter Heat Pump™

ADDITIONAL BENEFIT:

Eco Hybrid™
GENERAL FEATURES
Capacity:

9kg

Color:

White

Door:

Opaque

Dryer Type:

Condenser Householder Tumble Dryer

Refrigerant Type:

R290

Automatic Tumble Dryer:

Yes
FEATURES
Display:

Big LED

Window Button:

Touch button

Auto Cleaning function:

Yes

Eco Hybrid:

Yes
MAIN COURSE
Common Course - Cotton:

Yes

Common Course - Cotton+:

Yes

Common Course - Mixed Fabric:

Yes

Common Course - Easy Care:

Yes

Special Course - Duvet:

Yes

Special Course - Towels:

Yes

Special Course - Allergy Care:

Yes

Special Course - Speed 30:

Yes

Special Course - Sportswear:

Yes

Special Course - Wool:

Yes

Special Course - Delicates:

Yes

Time dry Course - Rack Dry:

Yes

Time dry Course - Warm Air:

Yes

Download Course - Download Cycle:

Yes
SMART FUNCTION
Smart Diagnosis:

Yes

Wifi:

Yes
ADDITIONAL FUNCTION
Delay End: Yes

Anti Crease: Yes

Drum Light: Yes

Drum Care: Yes

Condenser Care:

Yes

Remote Start:

Yes
OPTION
More Time:

Yes

Less Time:

Yes

Eco hybrid - energy:

Yes

Eco hybrid - time:

Yes

Buzzer:

On/Off
DRY LEVEL
Iron:

Yes

Cupboard:

Yes

Extra:

Yes
SENSOR
Thermistor:

3EA

Moisture Sensor:

Yes

Door S/W:

Yes

Water Sensor:

Yes

Filter Sensor:

Yes
CONVINENCE
End Beep:

Yes

Remain Time:

Yes

Drying Step:

Yes

Clean Filter:

Yes

Empty Water:

Yes

Child Lock:

Yes

Drum Light ( LED Lamp ):

Yes

Energy Monitoring:

Yes

Filter Sensor:

Yes

Leg Adjust:

4 Adjustable Legs

Reversible Door:

Yes
SIZE
Product (WXDXH): 600×660×850
ACCESSORY
Accessory hose:

Yes

Rack:

Yes

Stacking kit:

Yes