Description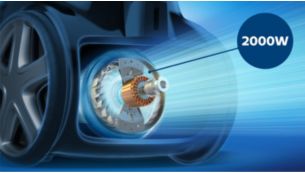 2000W durable motor for high suction power
Durable 2000W generates strong suction power for great cleaning results.
Compact and lightweight for easy carrying
Compact and lightweight design ensure both storing and carrying the vacuum is easy.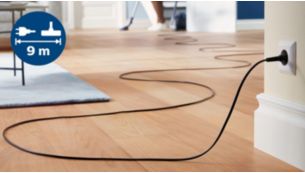 Long 9-meter reach goes further without unplugging
9-meter reach from plug to nozzle allows longer use without unplugging.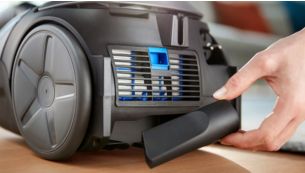 Onboard tool is conveniently stored so it's always to hand
Crevice tool is integrated into the vacuum so it's easily accessible to use any time you need.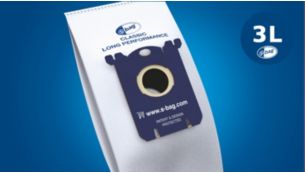 Easy long-lasting bags fit into large 3-liter dust chamber
Large 3-liter dust chamber and long-lasting universal bags allow optimum suction power until full, plus sealed, mess-free disposal.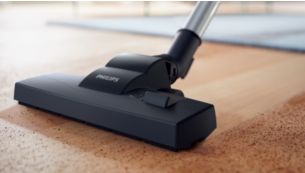 Multi-purpose nozzle for great cleaning on different floors
Multi-purpose nozzle can be easily adjusted using the foot pedal, for optimal use on hard floors or carpets.
Adjustable suction power for every cleaning task
Choose the right level of suction for any cleaning task and every surface in your home.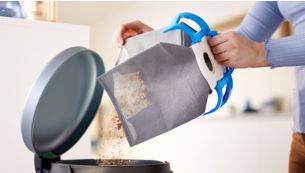 Re-usable dust bag for ease of use
Washable dust bag to avoid contact with dust.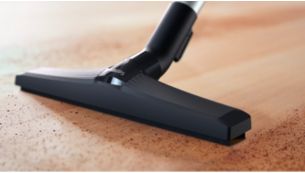 Parquet nozzle with soft brush hairs for scratch-protection
No more risk of scratches thanks to this nozzle with soft brush hairs, especially designed to carefully clean your hard floors.
Super Clean Air filter system captures >99%* particles
Super Clean Air filter system captures >99%* of small dust particles, releasing cleaner air in your home.