Description
Uniquely yours
Bespoke - Customisable Design
Make your kitchen more you. With custom coloured fridge freezers and a varied choice of finishes, it's easy to express yourself and your taste with a Bespoke refrigerator. No longer compromise on style and see your fridge freezer seamlessly blend in with your kitchen.
Modern and sleek to suit your style
Seamless and Sleek Design
In need of a modern freezer? Sleek and cool with flat streamlined doors and a slim handle, this unit will satisfy all your needs and keep things looking cool.
More inside, same outside
SpaceMax™ Technology
Now you can get the best of both worlds with SpaceMax™. Thinner walls mean more space for food storage on the inside while the outside size stays the same. All without compromising on performance. You really can get the best of both worlds.
Flex made easy
Freezer/Fridge Convertible
Storage jigsaw days are over. Convert your freezer into a fridge to store more fresh products as and when needed. Whether it's something you particularly enjoy, need to store in different seasons or those special occasions you cater for, you'll never have to run out of fresh storage. But whenever you need freezer space it's perfect for that too. It really is that simple.
Play it cool
All-Aound Cooling
Never lose your cool with All-Around Cooling. It does what it says on the tin—moving cool air around the fridge to keep food fresh with a constant temperature. So everything from chickens to cucumbers will be evenly chilled. Every item stays ideally cooled no matter where it's stored in the fridge.
Put defrosting on ice
No Frost
Wouldn't finding the ice cream be that bit easier with a frost free fridge freezer? The Total No Frost feature maintains an even temperature, preventing ice build-up and saving you the time and hassle of defrosting.
Make freeze a breeze
Power Freeze
No more worrying about your frozen favourites defrosting on the way home from the shops. Add a burst of Power Freeze to the freezer to keep them at their best.
Any way you want it
Slide-in Shelf
There's always one tall bottle or the Sunday roast that simply won't fit in. The Slide-in Shelf can be easily moved to create the best fit for all your groceries. Organising your food has never been so easy.
Lasting eco-consciousness
Digital Inverter Technology
Enjoy a long-lasting performance that helps protect the environment by reducing waste electrical and electronic equipment*. Samsung appliances are built using high quality components and engineering, so they offer outstanding durability. Thanks to the extended parts warranty period of 20 years** on the Digital Inverter Motors and Digital Inverter Compressors, you can enjoy your appliances for longer.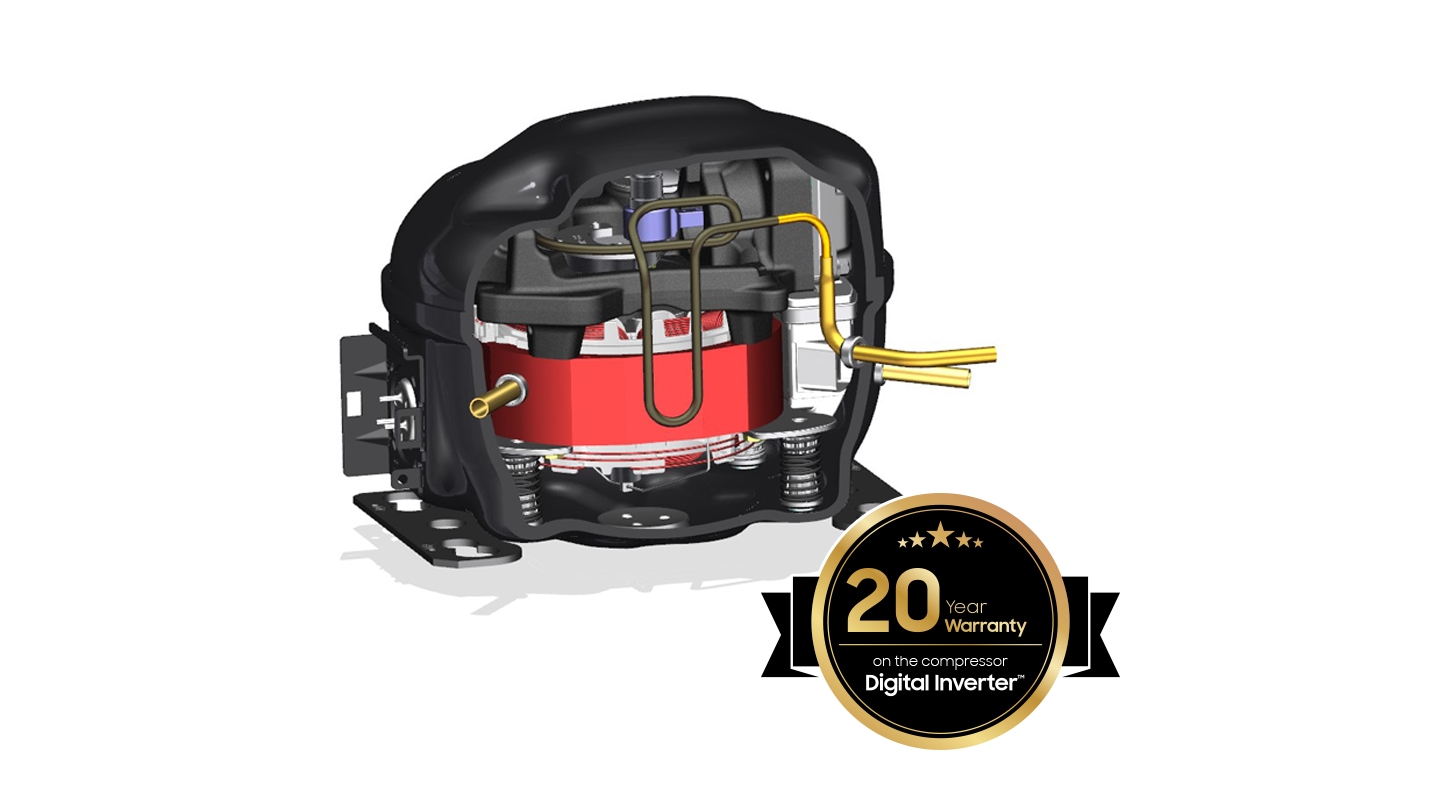 *Samsung works within the WEEE (Waste of Electrical and Electronic Equipment) regulations for the environmentally-safe collection, treatment, recycling and disposal of equipment
**Limited to the compressor only. Applying to all DIT models sold from July 2022
A good fit
Adjustable Door Bin
No more items precariously wobbling in the door. Alter the position of the Adjustable Door Bins to fit whatever you need—from small juices to family-sized milk. It's a great way to make the best use of your space.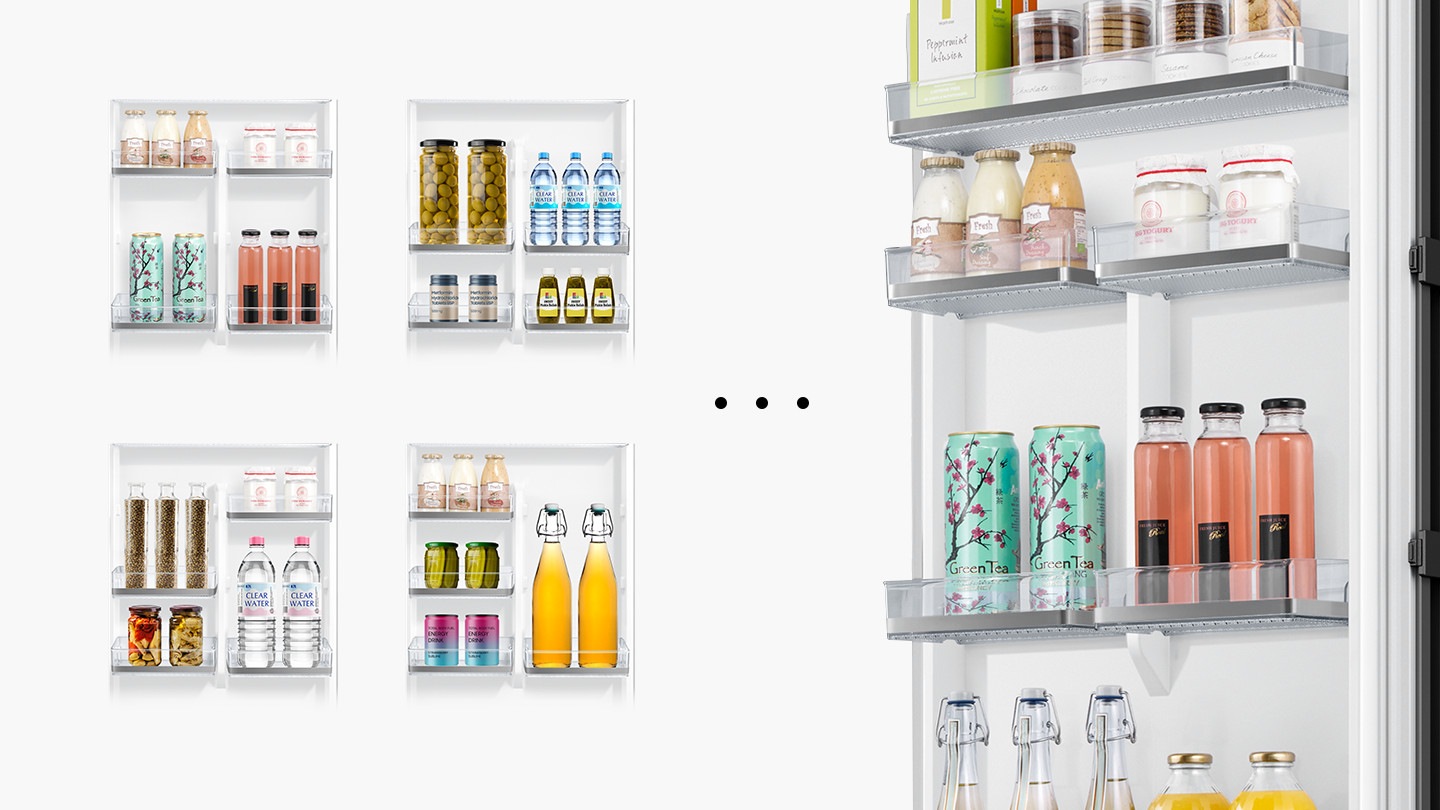 A bright idea
LED Lighting
A brightly lit, stylish and energy efficient fridge. Making it easier for you to find those jars hidden on the top shelf while also saving you money on your next electricity bill. Plus, it's much more durable.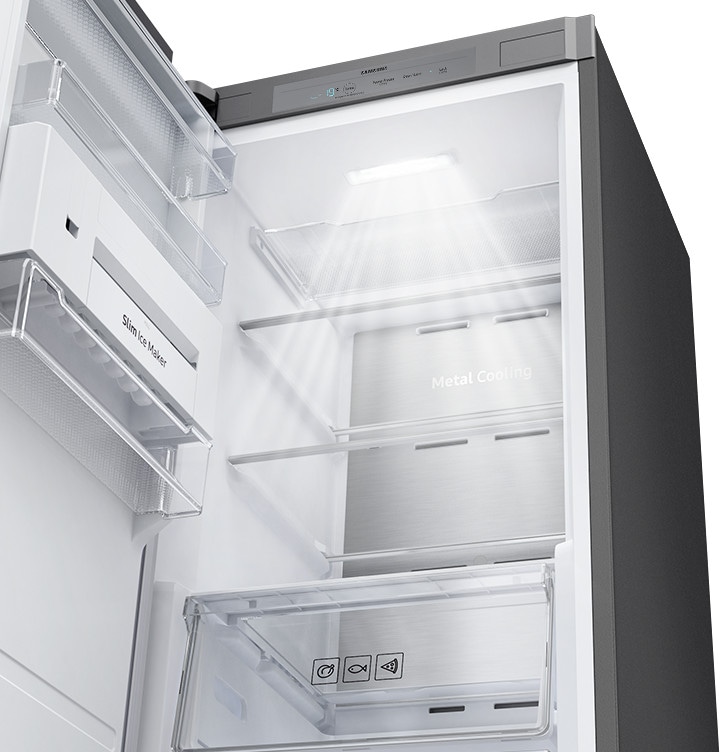 Plenty of ice, even more freezer space
Slim Ice Maker
Enjoy more freezer space, while still getting enough ice. A Slim Ice Maker is built into the fridge door, so it gives you valuable extra storage by freeing up space in the freezer. But it can still store plenty of ice, and its transparent compartment lets you easily see how much you have left.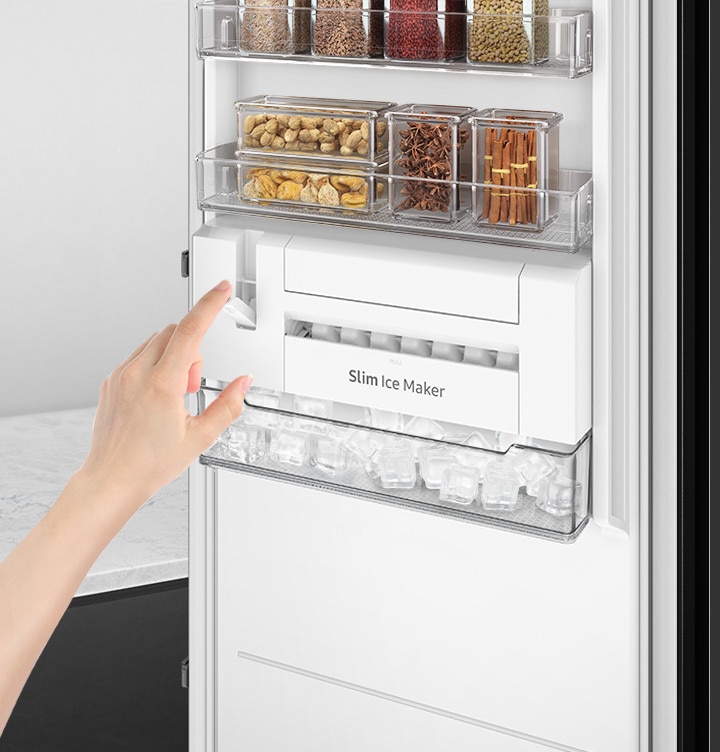 Which side are you on?
Reversible Door
Personal preference or a necessity for your kitchen layout, the Reversible Door lets you choose to open your fridge from the right-hand side or the left. Now you'll never have to worry about swinging the door into other cupboards or appliances.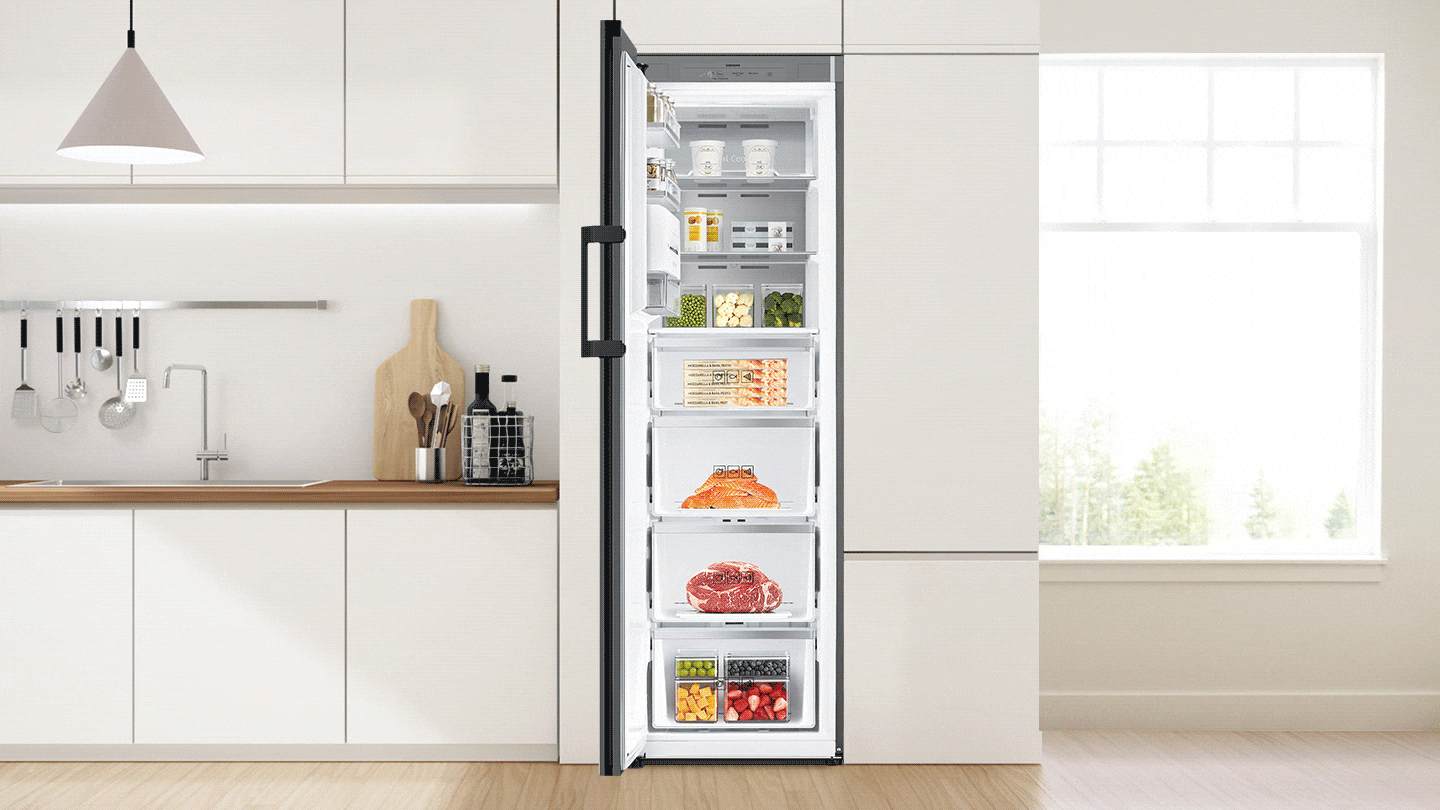 Specifications
Net Total(Litre)

323 ℓ

Cooling Type

All-Around Cooling

Net Weight(kg)

87.5 kg

Net Width(mm)

595 mm

Net Depth with Door Handle(mm)

688 mm

Net Case Height with Hinge(mm)

1853 mm
Physical specification
Net Dimension (WxHxD)(mm)

595*1853*688 mm

Net Width(mm)

595 mm

Net Case Height with Hinge(mm)

1853 mm

Net Depth with Door Handle(mm)

688 mm

Net Depth without Door Handle(mm)

647 mm

Packing Dimension (WxHxD)(mm)

646*1950*760 mm

Packing Width(mm)

646 mm

Packing Height(mm)

1950 mm

Packing Depth(mm)

760 mm

Net Weight(kg)

87.5 kg

Packing Weight(kg)

92.5 kg

20/40/40H (Container)

24/54/54
Cooling Feature
Cooling Type

All-Around Cooling

No Frost

Yes

Multi Flow

Yes
Freezer Feature
Fridge/Freezer Convertible

Yes

Convertible Mode

Fridge/Freezer

Temperature Range

Fridge 1 ~ 7 ℃ / Freezer -23 ~ -15 ℃

Shelf Material

Tempered Glass + White trim

Number of Shelf (Total)

3 EA

Flip Cover

Yes

Number of Drawer

4 EA

Number of Drawer (Vegetable & Fruit)

4 EA

Icemaker

Slim Ice Maker

Number of Door Pocket

2 EA

Interior LED Light

Top LED

Power Freeze Function

Yes
General Feature
Door Reversible

Yes

Door Alarm

Yes

Refrigerant

R-600a

Compressor

Digital Inverter Compressor
Exterior Feature
Display Type

Internal

Door Handle

Slim Easy Bar

Colour

Satin Beige

Door Type

BESPOKE
Performance
Energy Efficiency Class

F

Noise Level

40 dBA

Climate Class

SN, N, ST, T

Cooling Capacity (kg/24h)

14.8 kg/24hr

Energy Consumption

329 kWh/year