Description
More space inside – same depth outside
SpaceMax™ Technology
Store more food in an extra large 390 liter* fridge with a standard 600mm depth design, which will seamlessly align with your cabinets. SpaceMax™ technology's high-efficiency insulation makes the walls much thinner. So it creates more storage space, without sticking out from your work surface.
* The capacity is different for each model.
Cools evenly from corner to corner
All-Around Cooling
Make sure food is properly cooled – wherever it is. All-Around Cooling cools each compartment evenly from corner to corner. It continually checks the temperature and circulates cool air through strategically placed vents. So every item on every shelf is cooled effectively and stays fresher.
Stays frost free without time and effort
No Frost
Avoid wasting time and power defrosting the refrigerator. No Frost technology enhances the air circulation to maintain a constant temperature, which prevents the buildup of ice. It also reaches the target temperature much faster. And places less demand on the cooling system, so it lasts longer.
Fast cooling and freezing on demand
Power Cool / Power Freeze
Enjoy a rapid cooling performance. At the touch of a button, Power Cool blows intensely cold air into the fridge to quickly cool your groceries or favorite drinks. Power Freeze delivers a fast blast of cold air into the freezer. It's great for freezing or firming up frozen food and making ice.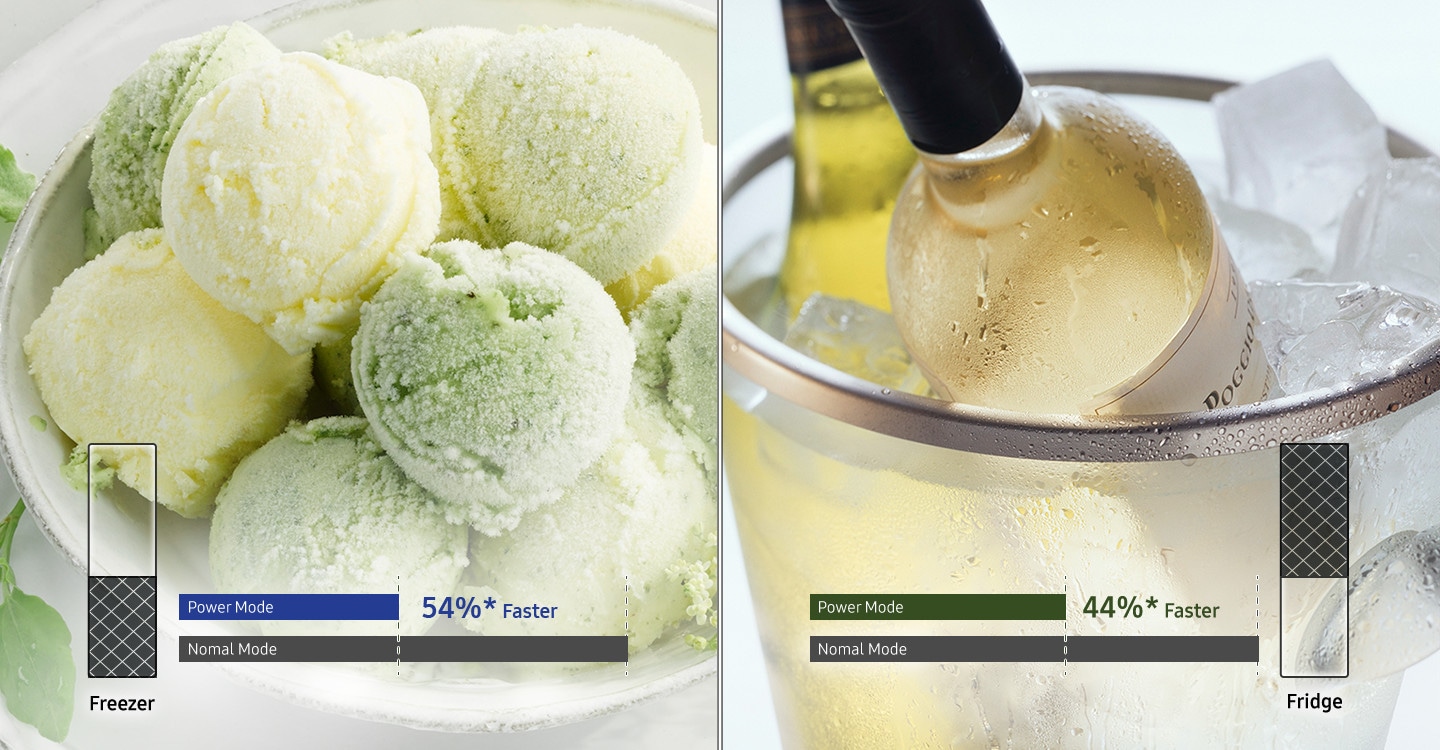 Seamlessly harmonious and stylish design
Seamless & Sleek Design
Give your home a seamlessly stylish appearance. Its neat and modern design is a standard 600mm depth, so it will fully align with your cabinets. It has beautiful flat doors and a Clean Back. And the minimalist interior has a Hidden Display, flat wine shelf and gray-tinted food bins and boxes*.
* Optional. Only available on certain models.
Fit bigger and more bottles in the door
Big Door Bin
Keep larger bottles of up to 4 pints in size in the door, so you don't waste shelf space. A wider and deeper Big Door Bin helps you safely store big bottles, bulky cartons and more beverage items. So it's great if you want to easily access chilled drinks and your favorite beverages at any time.
Easy to clean, durable & protective back
Clean Back
Clean the back of your refrigerator much more easily. The Clean Back is a completely smooth safety cover for vital coils and cables. It looks really neat, can be easily wiped clean and provides added durability. It stops dirt from collecting around components and protects them from knocks.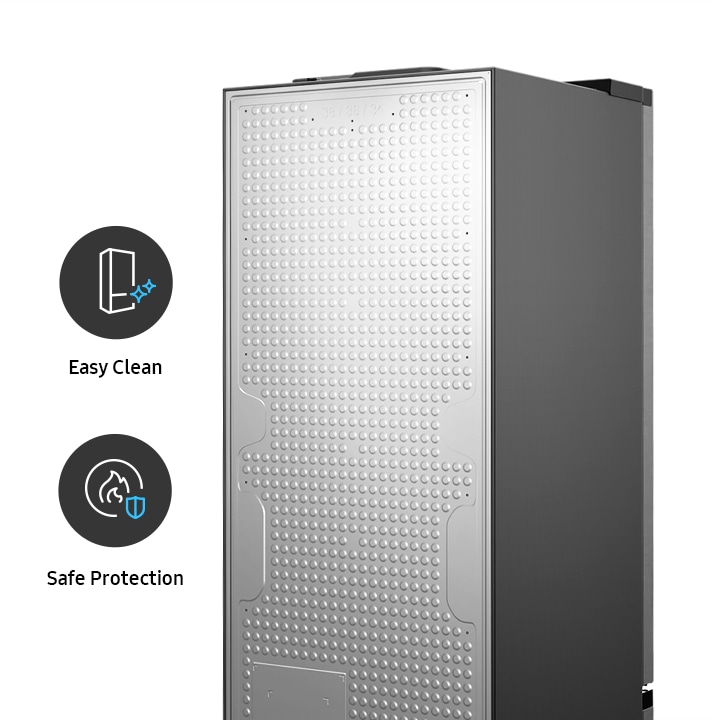 Specifications
Gross Total (Liter)

344 

Net Width (mm)

595 

Net Case Height with Hinge (mm)

1853 

Net Depth with Door Handle (mm)

658 

Net Weight (kg)

78 

Cooling Type

All Around Cooling
Capacity
Gross Total (Liter)

344 

Gross for Freezer(Liter)

114 

Gross for Fridge (Liter)

230 
Physical specification
Net Width (mm)

595 

Net Case Height with Hinge (mm)

1853 

Net Case Height without Hinge (mm)

1853 

Net Depth with Door Handle (mm)

658 

Net Depth without Door Handle (mm)

658 

Net Depth without Door (mm)

595 

Packing Width (mm)

637 

Packing Height (mm)

1935 

Packing Depth (mm)

740 

Net Weight (kg)

78 

Packing Weight (kg)

80.5 

20/40/40H (Container)

27/54/72/84
Cooling Feature
No Frost

Yes

Cooling Type

All Around Cooling
Refrigerator Feature
Number of Shelf (Total)

4 EA

Wine Rack

Yes

Number of Door Pocket

4 EA

Egg Container(Egg Tray)

Yes

Interior LED Light

Top LED

Shelf Material

Tempered Glass

Number of Vegetable&Fruit Drawer

1 EA

Power Cool Function

Yes
Freezer Feature
Number of Drawer

3 EA

Power Freeze Function

Yes

Ice Tray

Yes
General Feature
Door Reversible

Yes

Door Alarm

Yes

Refrigerant

R600a
Exterior Feature
Display Type

Internal

Door Handle

Recess

Color

Clean Black

Door Type

Black Glass
Performance
Noise Level

37 dBA

Climate Class

SN/T