Description
Moister, fresher natural tasting food
Twin Cooling Plus
Optimize the temperature and humidity in the fridge and freezer using independent cooling. Twin Cooling Plus preserves food in the optimal conditions and protects its natural flavor by preventing odors from mixing. With a high humidity level in the fridge perishable food stays moist and fresh.
Easily install anywhere without plumbing
Non-Plumbing Water Dispenser
Install the refrigerator anywhere without time-consuming plumbing or untidy pipes. It has a large, BPA free* water tank for its Non-plumbing Water Dispenser. So it can be installed in almost any location. And there's no need to change the water filter regularly, which saves you time and money.
* Bisphenol A (BPA) is found in polycarbonate plastics and epoxy resins, which are often used in food and beverage containers, and has been linked with possible adverse health effects.
Stylishly minimalist design and controls
Modern and Sleek Design
Give your home an elegantly sleek and sophisticated look. The clean and contemporary design features a minimalist beautiful flat door with recessed handles. It also has a stylish front LED display, so it's easy to access functions and monitor the refrigerator's status.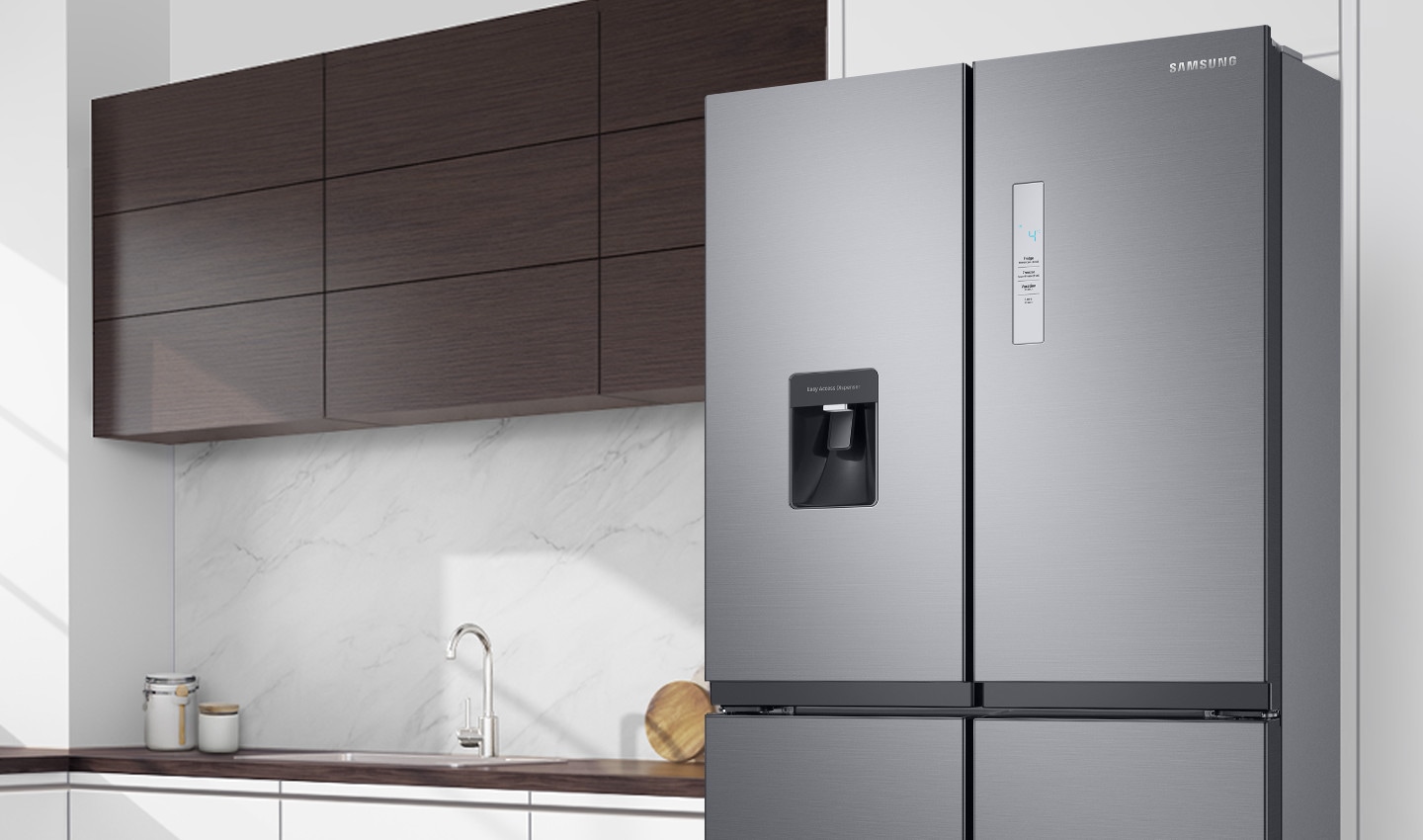 Makes less noise, uses much less energy
Digital Inverter Technology
Enjoy less noise and greater energy efficiency. Unlike conventional compressors, the Digital Inverter Compressor automatically adjusts its speed in response to cooling demand.
Fast cooling and freezing on demand
Power Cool / Power Freeze
Enjoy a rapid cooling performance. At the touch of a button, Power Cool blows intensely cold air into the fridge to quickly cool your groceries or favorite drinks. Power Freeze delivers a fast blast of cold air into the freezer. It's great for freezing or firming up frozen food and making ice.
Optimal humidity for lasting freshness
Fresh Zone
Preserve the freshness and flavor of fruit and vegetables for longer. The Fresh Zone is a smartly designed drawer with a tight seal that creates the ideal environment for storing perishable food. It continually detects and adjusts the moisture level in the drawer to ensure the optimal humidity.
All the ice or space you need on demand
Movable Ice Maker
Make sure that you always have plenty of ice to stay cool when it's warm. A simple twist of the Movable Ice Maker is all it takes to dispense a large quantity of ice. But when the seasons change and there's not much need for ice, you can easily remove it and create more space in the freezer.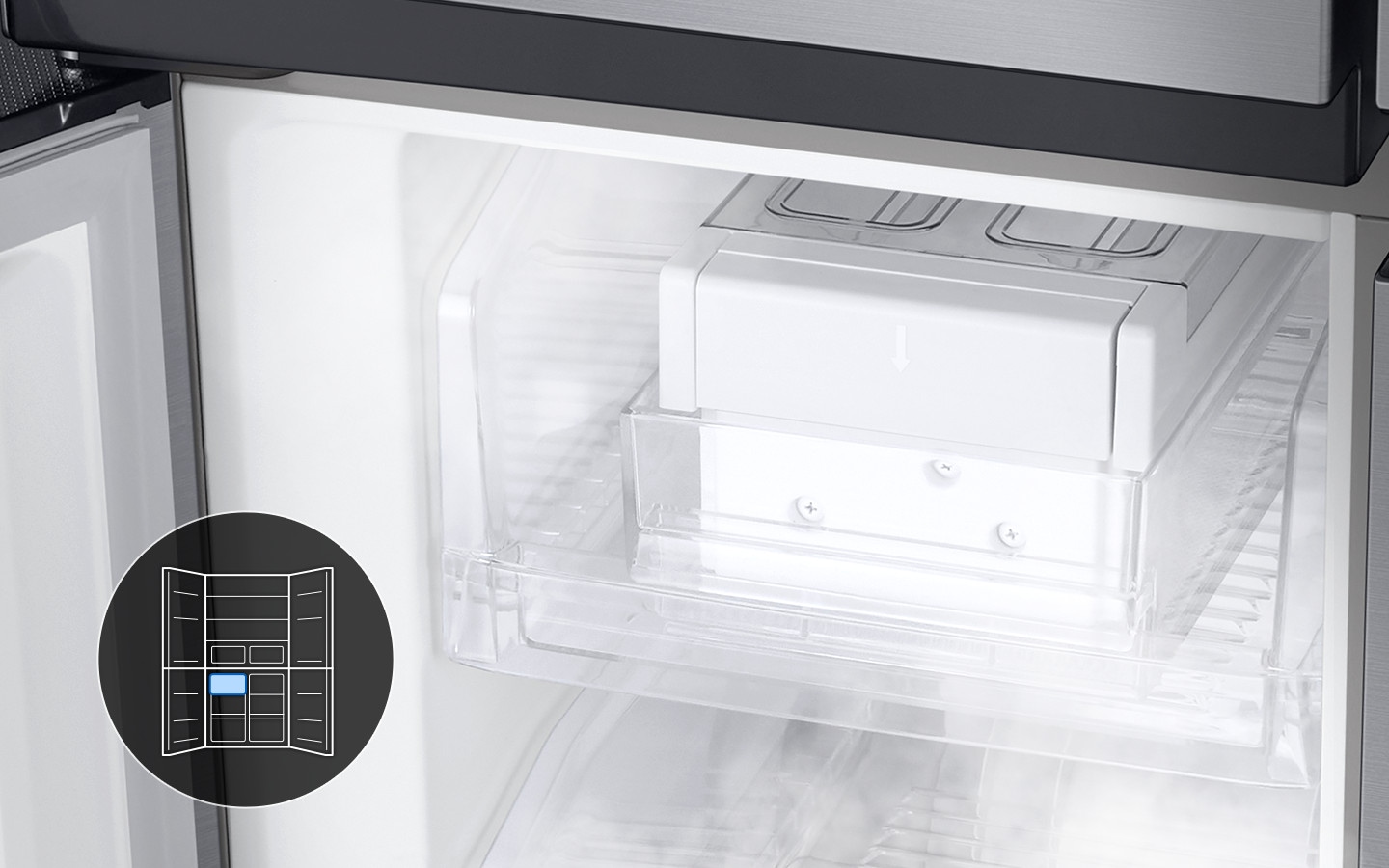 Stays frost free without time and effort No Frost
Avoid wasting time and power defrosting the refrigerator. No Frost technology enhances the air circulation to maintain a constant temperature, which prevents the buildup of ice. It also reaches the target temperature much faster. And places less demand on the cooling system, so it lasts longer.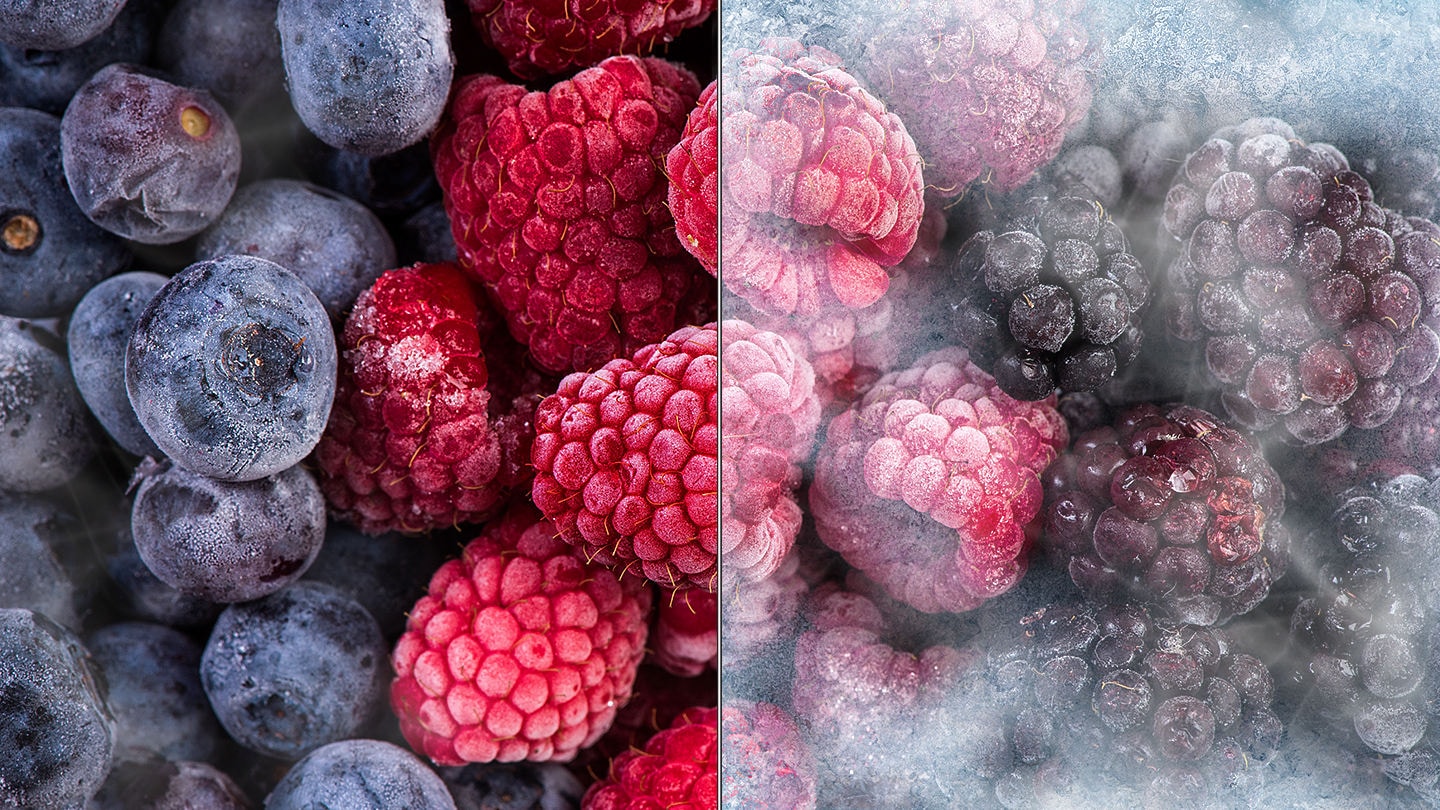 Specifications
Net Total (Liter)

466‎

Net Width (mm)

833‎

Net Case Height with Hinge (mm)

1793‎

Net Depth with Door Handle (mm)

740‎

Net Weight (kg)

99‎

Cooling Type

Twin Cooling Plus
Capacity
Net Total (Liter)

466‎

Net for Freezer(Liter)

140‎

Net for Fridge(Liter)

326‎

Gross Total (Liter)

511‎

Gross for Fridge (Liter)

333‎

Gross for Freezer(Liter)

178‎
Physical specification
Net Width (mm)

833‎

Net Case Height with Hinge (mm)

1793‎

Net Case Height without Hinge (mm)

1775‎

Net Depth with Door Handle (mm)

740‎

Net Depth without Door Handle (mm)

740‎

Net Depth without Door (mm)

650‎

Packing Width (mm)

890‎

Packing Height (mm)

1875‎

Packing Depth (mm)

795‎

Net Weight (kg)

99‎

Packing Weight (kg)

109‎
Cooling Feature
No Frost

Yes

Cooling Type

Twin Cooling Plus
Refrigerator Feature
Deodorizer

Yes

Number of Shelf (Total)

3 EA

Wine Rack

No

Shelf Material

Tempered Glass

Number of Vegetable&Fruit Drawer

2 EA

Number of Door Pocket

6 EA

Egg Container(Egg Tray)

Yes

Power Cool Function

Yes

Interior LED Light

Top LED
Freezer Feature
Icemaker

Twist Ice maker

Shelf Material

Tempered Glass

Number of Shelf (Total)

4 EA

Number of Drawer

2 EA

Power Freeze Function

Yes
General Feature
Door Alarm

Yes

Compressor

Digital Inverter Compressor
Exterior Feature
Display Type

External

Door Handle

Recess

Color

Gentle Silver Matt

Dispenser Type

Water Dispenser
Performance
Energy Efficiency Class

A++

Noise Level

42 dBA

Climate Class

T

Energy Consumption

311 kWh/year

Vacation Mode

Yes
App Connectivity
SmartThings App Support

No