Description
What could be better than meeting up with family or friends in the evening in front of a good raclette or around a stone grill "Now, thanks to the TEFAL PR303812 device, you can share large meals for up to 8 people , and that with different colored squeegees so that everyone can find it.


Its 1.5 cm thick real stone will also allow you to cook your meats as well as delicious fish and shellfish. Blue, rare, to perfection, everyone can cook his meat as he wishes, like a chef Removable, you can also adapt it as you wish.
A NON-STICK COATING FOR MORE PLEASURE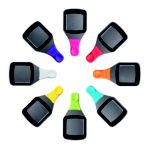 Who has never hoped not to be the happy beneficiary of all the dishes at the end of the meal "And especially that of the scrapers where there are constantly burnt pieces of cheese" Now, thanks to the non-stick coating on the scrapers , your raclette cheese slides easily: no more fork scratches to collect the cheese!


Finally, the 1100 watts of power of the TEFAL PR303812 will allow you to cook quickly, which is ideal for all those impatient who do not want to wait another second to eat. Finally, its 1.20 m cord also allows you to enjoy your meal without being hampered by the length of it.